Causes, Treatment and Prevention of Heartworm in Dogs
Heartworm is caused by a parasitic roundworm called Dirofilaria immitis. It is spread by mosquitoes when they bite an infected dog to feed.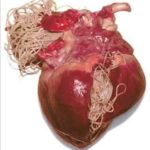 If left untreated the heartworm starts to reproduce in the right ventricle of a dog's heart, where it causes symptoms of congestive heart failure such as coughing, exercise intolerance and eventually death.
Treatment of affected dogs is risky as they can die during treatment.
Prevention of heartworm is therefore the best option. The easiest way of preventing heartworm is with an injection called ProHeart. This is first given to puppies at 12 weeks of age, then a second injection is given 3 to 6 months later. After that the injections are annual.
For more information
Contact Dr Dave to make an appointment or to learn more about preventing heartworm in your dog.