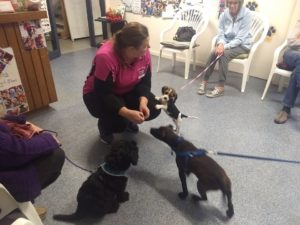 Cape Hawke Veterinary Hospital now runs Puppy Pre-school classes on a regular basis.
Puppy Preschool classes are run at the clinic by Cass Bishop (Vet Nurse).
They are usually run on Thursday evenings for 4 weeks at 5.30 pm.
They include basic puppy training. More advanced dog training is available from a local dog trainer.

The main aim of puppy pre-school is socialisation with other puppies and people. Teaching your puppy good manners and socialization skills will enable him to grow into a confident, friendly and socially acceptable adult dog.
Most of the time at puppy pre-school will be spent playing. Puppies love to play and through play he will learn how to communicate and socialize with other dogs. We will also teach your puppy some basic commands such as sit, drop, come and stay as well as some basic obedience.
Puppy pre-school is fun for you and your pup, so get your puppy to enjoy coming to the vet and get on well with other puppies.
We take puppies from 8 weeks of age to around 16 weeks, and all puppies need to be up to date with vaccinations.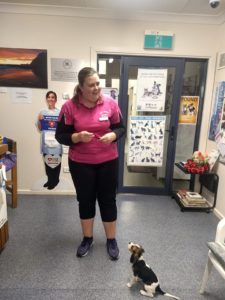 Classes run 1 day a week for 4 weeks and usually go for about 1 hour. Times are flexible, depending on what suits each family. We only run small classes that can be tailored to your personal needs. Class cost is $15 a class. At the end of the 4 weeks your puppy will receive a graduation certificate and puppy pack on completion of the course.
We ask that you don't feed your puppy just before class as training is based on food rewards and we usually get better results if your puppy is a little bit hungry. It is also a good idea to bring the whole family.
For any more information or to book your puppy in you can ring 6554 5811 or drop in to Cape Hawke Vet Clinic Monday to Friday 9 – 5:30 or Saturdays 9 – 12.
---
Puppy Preschool Gallery