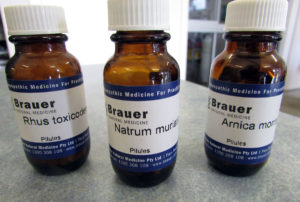 Homeopathy is a system of natural medicine which was discovered 2000 years ago but only put into a system of medicine in 18th century by a German physician called Dr Hahnemann.
It uses the principle of like cures like.
The Remedies
These are made from plant, animal or mineral products. They are diluted using a mixture of alcohol and water and then put onto lactose beads. During the dilution process the mixture is shaken (successed) which makes it much more potent.
How Can Homoeopathy Help My Pet?
Homoeopathy is used in a wide range of diseases such as skin problems and behavioural problems.
What Happens In A Homoeopathy Consultation?
The consult usually takes longer than a conventional consult as there is a lot more information to take in eg the animals personality, affects of temperature etc.
How Soon Can I Expect Results?
Homoeopathic remedies often work slower than conventional medicines but they have a deeper more long-lasting effect.
What Are The Qualifications?
David Hare holds the MFVetHom (membership of the faculty of veterinary homoeopathy) which is recognised world-wide.